Past Event
July 24–25 2014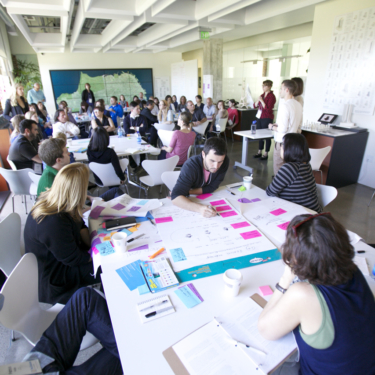 Workshop: Facilitation By Design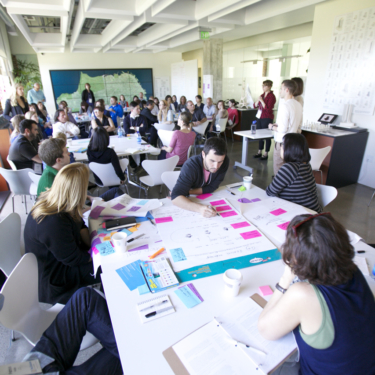 July 24–25 2014
Workshop: Facilitation By Design
Increasingly, organizations need a more integrated approach to business challenges, and designers are often asked to guide diverse groups of organizational leaders, colleagues and community members to develop solutions for big, interconnected problems. The skills required to lead these groups effectively are rarely taught, but as designers' roles continue to evolve, the ability to successfully facilitate a diverse group and create effective solutions is a critical skill set to master.
This two-day workshop is for professionals who want to gain confidence leading interdisciplinary problem-solving sessions. Attendees will gain resources, strategies and valuable insights to help them guide people effectively through a collaborative design thinking process.
What you'll learn
Design facilitation skills are something organizations are willing to pay for, and critical tools for anyone who wants to work in social impact. These skills can help designers earn additional revenue as independent consultants, but they'll also benefit designers who are seeking leadership roles within their organizations or communities. Hear what past participants had to say about "Facilitation: by Design" by reading their testimonials here.
Attendees will learn actionable facilitation tools and methods; explore modules that include descriptions, considerations, tools and activities that can be used; and see real-world examples of how a facilitator managed particular aspects. Specific topics in this workshop include:
The role of the facilitator
Understanding and framing the problem
Designing agendas and activities
Creating engaging environments
Collaboration and decision-making
The hands-on workshop will also address a variety of situations commonly faced by facilitators:
Facilitators who are internal versus external to an organization
Facilitators who are internal versus external to a coalition of people
The nature of participation, whether mandatory or voluntary
Determining meeting/workshop intentions, such as decision making, consensus building or idea generating
Whether you work within an organization to further the role of design, have been asked to facilitate conversations, or are involved in community work that needs help moving forward, the "Facilitation: by Design" workshop will help you enhance your skill set, increase your effectiveness at problem-solving and improve your marketability.
Workshop schedule
Thursday, July 24

8:30 a.m. Check-in and optional catered breakfast
9:00 a.m. Workshop begins
1:00 p.m. Catered lunch
5:00 p.m. Workshop concludes for the day
Friday, July 25

8:30 a.m. Optional catered breakfast
9:00 a.m. Workshop begins
1:00 p.m. Catered lunch
5:00 p.m. Workshop concludes
Accommodations
The workshop will be held at SVA's Branding Studio, located at 132 West 21st Street, 11th Floor (between 6th and 7th Avenues) New York, New York 10011.
Your workshop registration includes continental breakfast and catered lunch on Thursday and Friday, July 24 and 25. Attendees are responsible for covering the cost of transportation and lodging, as well as evening meals. See the Lodging page for hotel and transportation options.
Workshop instructors
Renna Al-Yassini, project lead, Adaptive Path; senior strategist, service designer and design researcher
Al-Yassini leads initiatives to create new products and services for a wide range of clients, guiding them through the entire arc of the project and systems-thinking processes, while fostering collaboration amongst stakeholders. Al-Yassini came to design having been raised in the social justice world, working as a communication strategist for nonprofits, government projects and social justice initiatives. She has guided diverse groups of people through a variety of collaborations—from teenagers in East Oakland working to open up a state-of-the-art youth center, to bank executives working to establish a new business entity. She remains committed to helping designers wishing to work in the social impact space to do so responsibly, effectively and critically.
Al-Yassini is the co-founder and senior advisor of the Roudha Center, has been recognized as one of Bloomberg Businessweek's "Twenty-One People Who Will Change Business," and is a regular AIGA Design for Good facilitator.
Dr. Mathan Ratinam is a core faculty member in Transdisciplinary Design at Parsons The New School for Design. He directs the Humanitarian Design Lab conducting design research with various external partners from the humanitarian, NGO and development community including the Red Cross (IFRC, American Red Cross), Oxfam America, World Bank (Social Development, WBI, Africa Region) and the United Nations (UNISDR and UNU).
Ratinam has been an independent consultant working both internationally and domestically. His work with the World Bank and the United Nations (UNHCR, UNWFP) has entailed a variety of projects ranging from designing facilitated workshops for government officials, multilateral donor and civil society personnel, to the development of communication strategies and technologies focusing on nuanced, human-centered stories. Within the United States Ratinam serves on the board of the Urban Assembly School of Emergency Management in New York, and frequently engages on initiatives regarding crisis response and emergency management. More recently he co-facilitated and led the design of an all-day workshop at the White House titled Innovation Brainstorm for Disaster Response and Recovery, a partnership between the White House Office of Science and Technology Policy and the Federal Emergency Management Agency (FEMA).
Registration policies
Your registration constitutes permission to use photos, audio and video recording taken of you at the event for promotional and educational purposes in connection with AIGA and : by Design conferences and activities, in corresponding publications and in AIGA's archives.
AIGA will refund 50 percent of conference fees paid for cancellations made before June 25, 2014. No refunds will be available after June 25, 2014.
Cancellation policy
The workshop is subject to cancellation or change. Liability is limited to funds remitted for workshop registration and sponsorship fees.
Learn more about AIGA's professional development opportunities.