Past Event
Wednesday, September 18 2013
12:00–12:00 am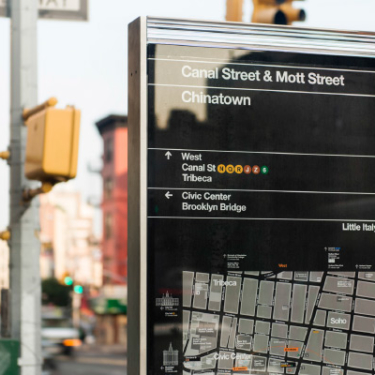 NEW WALK CITY: JUST LIKE WE PICTURED IT HOW PENTACITYGROUP DESIGNED NYC'S STREET MAPS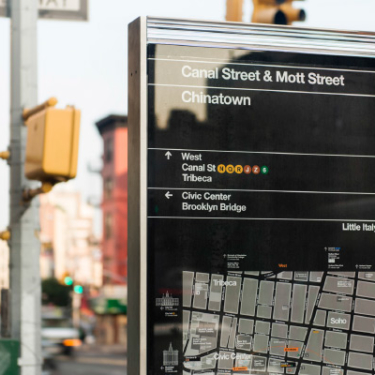 Wednesday, September 18 2013
12:00–12:00 am
NEW WALK CITY: JUST LIKE WE PICTURED IT HOW PENTACITYGROUP DESIGNED NYC'S STREET MAPS
Ever wondered how you got here? New York City's Department of Transportation is introducing WalkNYC and Citi Bike to the city's streets this year. Pedestrian wayfinding signs and Citi Bike kiosks which both feature new maps of the city are popping up across the boroughs. As locals and visitors, walkers and bikers, orient, explore and discover neighborhoods, these striking maps are turning New Yorkers' heads and re-envisioning our image of this city.
Wendy Bell (T-Kartor), Hamish Smyth (Pentagram) and David Gillam (City ID), as representatives of design consortium PentaCityGroup, will reveal the process their all-star team of information designers, policy makers, GIS experts, industrial designers, engineers and urban omnivores followed to create a comprehensive, beautiful and functional wayfinding system. Wendy, Hamish and David will describe the system and the new mapping database which is at it's heart. Rachel Abrams (Turnstone Consulting), AIGA/NY board member and Special Advisor to PentaCityGroup, will introduce the evening.
WENDY BELL, T-Kartor
A self described urban enthusiast, Wendy Bell joined T-Kartor in 2012 with a background in urban landscape architecture and planning. Receiving her BLA from the University of Georgia, Wendy has since been involved with the design and planning of parks, bike and pedestrian facilities, streetscapes, and plazas in Charleston, South Carolina and Portland, Oregon, as well as in New York City and Long Island.
With T-Kartor, Wendy leads the graphic and content coordination and development of the map database for the WalkNYC and Citi Bike products. Bringing to the project a keen understanding of how public spaces are designed to work, Wendy enjoys the process of transforming raw GIS data into a beautiful and functional cartographic database suitable for urban wayfinding.
DAVID GILLAM, City ID
Graduating from the University of the West of England with a Bachelor of Arts in Graphic Design and a keen interest in what makes cities tick, David joined City ID in 2007.
Since joining City ID David has developed numerous citywide and regional projects, leading the design development and project co-ordination of wayfinding and transport information systems in the UK and internationally. David played a key role in the development of the Legible London wayfinding system and pilot scheme in Richmond and Twickenham, the London 2012 Olympic Park Transformation wayfinding strategy, and recently led the design development of Interconnect West Midlands – including a range of regional multi-modal transportation, wayfinding, public realm and identity projects in the region.
Now based in NYC, David is working on the design development of WalkNYC and planning future project phases.
HAMISH SMYTH, Pentagram
Hamish studied communication design at the Royal Melbourne Institute of Technology (RMIT University) in Australia, where he received a Bachelor of Communications Design, Honors with distinction.
Hamish joined Pentagram New York in 2010 under the direction of Michael Bierut, where he has worked on numerous branding, identity, publication, signage, and wayfinding projects. A self described map nerd, Hamish worked closely with the other members of PentaCityGroup and Bierut's team at Pentagram on the graphic design of WalkNYC.