Past Event
Saturday, May 11 2013
12:00–12:00 am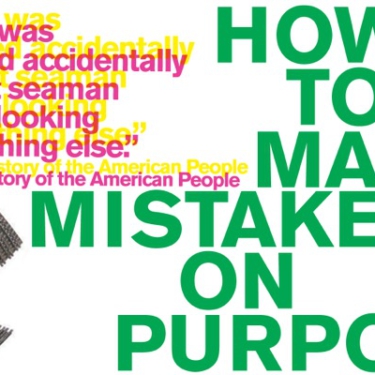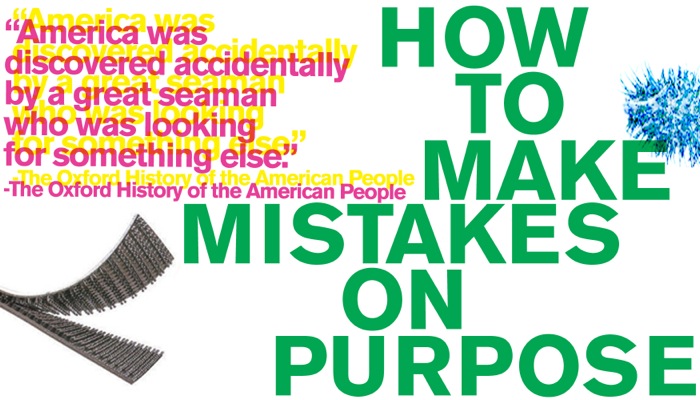 WORKSHOP: HOW TO MAKE MISTAKES ON PURPOSE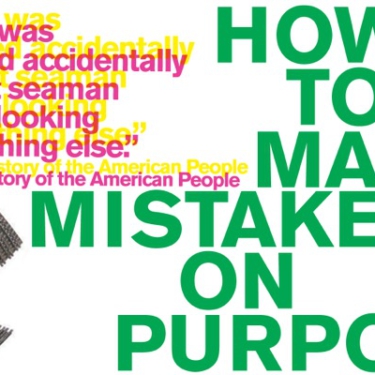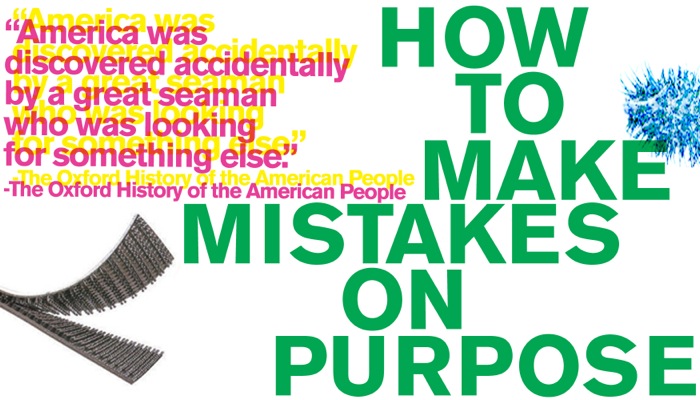 Saturday, May 11 2013
12:00–12:00 am
WORKSHOP: HOW TO MAKE MISTAKES ON PURPOSE
Join AIGA/NY and artist/designer Laurie Rosenwald in a mysterious, one-of-a-kind workshop.
HOW TO MAKE MISTAKES ON PURPOSE is not a creativity workshop. Trying to be creative works about as well as trying to be charming. What you actually do in the Workshop is top secret- until you enter the room. It's about surprise, so it must be one. This workshop has also been called: "What to do when it's too late to get burrs stuck on your pants and invent Velcro all over again."
You will make mistakes like never before.
THE STORY OF VELCRO:
One day Georges de Mestral went for a walk in the woods. He got some burrs stuck to his pants. He looked at them and thought, "What could this be?" And then he created VELCRO. What he didn't do is sit down at a desk and think, "What this world needs is a  better way of sticking stuff together! I'm going to be creative now! I will now invent a new way of doing that!"
But how can you plan those happy accidents? In this workshop, unexpected and random things will happen that will make you ask, "What could this be?"
Often, especially if you focus, if you try very, very hard to create an extra good thing, the outcome is particularly bad. Or worse, boring. So why not just be super bad, and see what happens?
People invent new things, and have unexpected ideas. That is what this workshop is for.
Anyone can do this workshop. No special skills are required. Curiosity is the only prerequisite. We guarantee you will surprise yourself, and everybody else. Also, it's just plain fun.
Bring Chaos to your Order.
Laurie Rosenwald is a painter, author, and principal of rosenworld, a design, illustration and animation studio. Actually there is no studio, Miss Rosenwald usually works alone, and rosenworld doesn't exist. In spite of this, rosenworld.com was launched in 1995. She also does humor writing, and writing which is only marginally funny. Her motto is "No job too big, No job too small, No job too medium." Laurie divides her time between Sweden and New York City, and has had solo exhibitions at Galerie Pixi in Paris, among others. She's done many drawings for The New Yorker magazine, The New York Times, and other fine publications. Her most recent book is titled "all the wrong people have self-esteem"and is  published by Bloomsbury. It is an inappropriate book for young ladies, and frankly, anybody else. Her children's book, And To Name But Just a Few: Red, Yellow, Green, Blue was published by Blue Apple.