Past Event
Thursday, June 8 2023
6:30–8:30 pm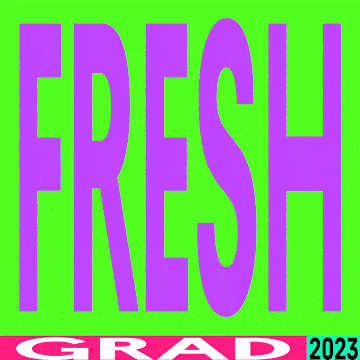 Due to the poor air quality in NYC, we're moving this event to a virtual platform this evening. Please join us as we celebrate our Fresh Grads!
Fresh Grad: Showcase, an event featuring graduate students from local and regional MFA, MA and certificate programs, now in its 13th year. Come with questions, join the conversation, prepare to leave impressed and inspired!
Join us for a night of students showcasing their work and celebrating education.
Evening will be hosted by AIGA NY board members.
Programs presenting:
Bea Korsh, Cooper Certificate Type Design
Janneane Blevins, Pratt MFA Communications Design
Genaldri Tjahjadi, CCNY, MPS in Branding + Integrated Communications (BIC)
Azra Adenwala, Parsons, MPS Communication Design
Hao Lun Hung, Parsons, MS Data Visualization
Astha Avinash, SVA Masters in Branding
Syed Osama Hussain, SVA MFA Interaction Design
Inês Ayer, SVA MFA Design
Ian Beckman Reagan, SVA MA in Design Research, Writing & Criticism
Adnan Aga, NYU, MPS in Interactive Telecommunications
The program is organized by AIGA NY with support from the School of Art, Media, and Technology at The New School.
Schedule
6:30 pm

Event begins

8:00 pm

Event ends

8:00 pm

-8:30pm Virtual meet and greet!
Tickets
Non-Members

$15.00

AIGA Members

$10.00