Past Event
February 19–4 2014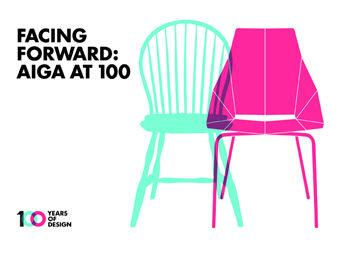 "Facing Forward: AIGA at 100" Exhibition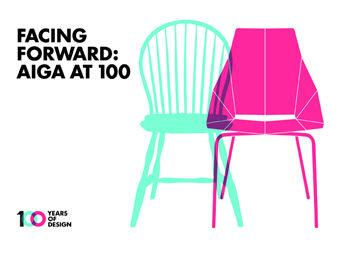 February 19–4 2014
"Facing Forward: AIGA at 100" Exhibition
AIGA, the professional association for design, celebrates its centennial in 2014. This exhibition at the AIGA National Design Center in New York City will celebrate AIGA's rich history and vibrant future through a timeless design icon: the chair.
Inspired by the fact that AIGA's earliest members purchased their own Windsor-style chairs for meetings and events, AIGA chapters were invited to customize Real Good chairs (donated by Blu Dot). Dozens of these chairs representing the creative diversity of our community will be featured in the exhibition, in addition to special chairs designed by Marian Bantjes, Laurie DeMartino and Charles Anderson, Aaron Draplin, Jessica Hische, Ellen Lupton, Mike Perry and Rick Valicenti.
As a national organization, AIGA has experienced many milestones: honoring more than 150 leaders with the AIGA Medal; highlighting design excellence through dozens of competitions; uniting designers around issues raised at annual conferences; and creating the opportunities for relationships that forge a true profession. AIGA's strength, however, lies in its 67 U.S. chapters and two international affiliates, which offer members a chance to celebrate design in their own communities and engage in thoughtful conversations with peers. Many of the these communities are represented in the exhibition with commemorative centennial chairs by local designers.
Visitors will be invited to learn more about AIGA's history, explore local chapters, interact with the interactive design history platform "100 Years of Design," and learn how to get involved in upcoming programs and initiatives.
SEE THE EXHIBITION
The exhibition is on view from February 19 through April 4 at the AIGA National Design Center in New York City. The exhibition is free and open to the public.
Gallery hours
Monday through Thursday: 11:00 a.m. to 6:00 p.m.
Friday: 11:00 a.m to 5:00 p.m.
AIGA National Design Center Gallery [map]
164 Fifth Avenue (between 21st and 22nd Streets)
New York, NY 10010
212 807 1990
Exhibition design: Stuart Rogers and Sam Eckersley, RED
Special thanks to Blu Dot for the donation of Real Good chairs.
This program is supported, in part, by public funds from the New York City Department of Cultural Affairs in partnership with the City Council.