Past Event
Monday, April 15 2019
7:00–8:30 pm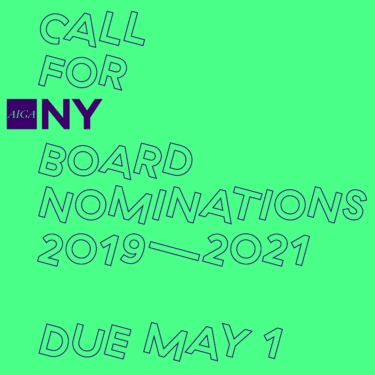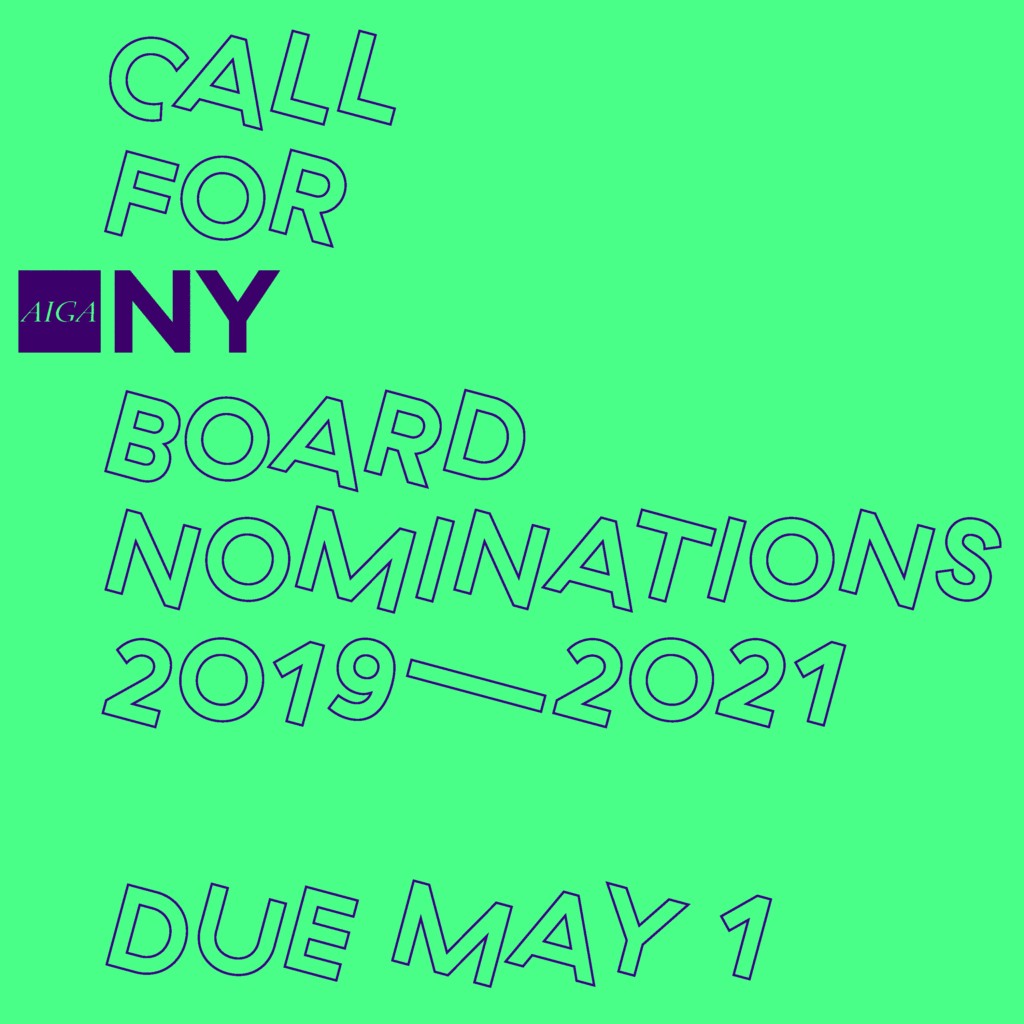 Call for AIGA NY Board Nominations
Info Session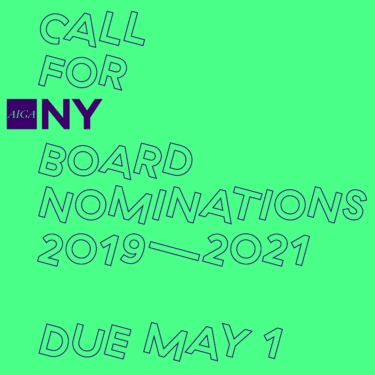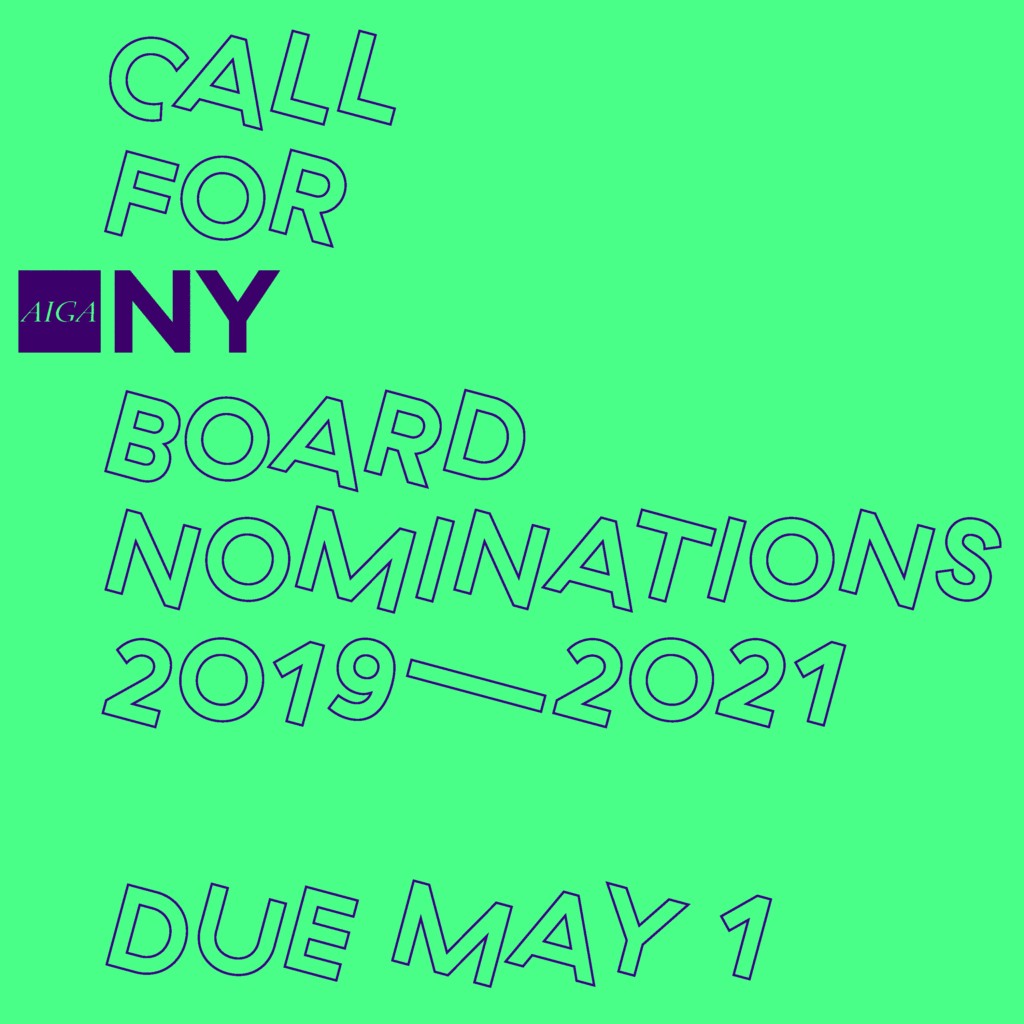 Monday, April 15 2019
7:00–8:30 pm
Call for AIGA NY Board Nominations
Info Session
The AIGA NY chapter board of directors are now accepting nominations for the 2019–2021 board slate.
For those who are interested in learning more about being a member of the board of directors, we encourage you to attend a brief and informal info session on Monday, April 15 at AIGA national headquarters.
About the Board
The AIGA NY board is a volunteer board of directors composed of both designers and non-designers who support the organization's mission to demonstrate design's impact and cultivate the future of design in NYC. We encourage interested individuals who exhibit the dedication, passion and ability to actively participate, serve, and lead the design community in New York City to consider self-nominating.
The AIGA NY board will review applications through May 1, 2019 in order to fill four open seats on the board of directors for a two year term beginning on July 1, 2019.
Ratified board members must commit to the following:
AIGA membership at the Sustaining ($250) member level or above
Active contribution to the design community at large, and participation in AIGA NY events, programs and initiatives
Membership on one AIGA NY mission-based committee (Education, Community, Advocacy) or functional committee (Communications, Development, Programming), or the executive committee
Physical presence at monthly board meetings, and committee meetings
A fundraising commitment of $3,000 each calendar year (via sponsorships, fundraising, or donations)
Residence and/or employment in the New York City area (five-boroughs)
A two-year board term commitment
Selection criteria
AIGA NY is a 501(c)(3) nonprofit organization. It is the New York chapter of AIGA (the professional association for design). As a self-governing nonprofit, the board must evaluate candidates based on a variety of criteria in order to support and grow the organization. Considering the roles and contributions of departing and continuing board members, the incoming slate should consist of individuals who can best enhance and support committees and the organizational mission. These considerations include:
Does each candidate individually meet the requisite criteria?
Does the slate as a whole represent a balance of expertise, experience, and point of view that aligns with AIGA NY's mission?
How well does the slate represent the broader community, its concerns and interests?
Does the slate result in an overall board that meets the necessary attributes?
For the board to effectively govern, it is essential for the board directors to be diverse to represent a variety of skills, experience, perspectives and expertise. The board as a whole should ideally embody the diversity that is reflective and representational of our local and national design community. Specifically, the criteria should embrace attributes of diversity that advance multiple points of view through:
Ability diversity
Age diversity
Discipline diversity (not limited to the design profession)
Gender diversity
Racial diversity
Workplace diversity
More details and specific responsibilities will be shared upon successful acceptance of the nomination in advance of ratification.
Nominations are due by May 1, 2019.
Tickets
Members

Free

Non-Members

Free